What is my NEXT Step? Read This
Now, to go a step up the ladder with your affiliate marketing, you need some guidance.
Did you realize that to be a successful affiliate marketer you only need 3 things:
You need a really solid program to promote that has sales pages that know how to convert their visitors into buyers
You need a way to get people to SEE that sales page who are interested in that topic;
You need a way to get in front of them with that same offer multiple times.
That's it! That's all. It's not rocket science, but our brains somehow make it seem that way.
So, let's break it down in detail with a quick story about a girl named Holly...
Holly loves planners, so at night when everyone finally goes to sleep, Holly takes much-needed ME TIME and while watching Netflix, she lays back with her cell phone and she clicks on the PINTEREST app.
Why? that's where she finds (and dreams about) her favorite things.👒
And Holly sees some really cute pins that say
How You Can Earn Passive Income Making Digital Planners...wait, WHAT?
You mean I can make those cute planners for PROFIT, not just to download to my own Ipad?
Yep!
Hmmmm...so Holly clicks on that pin and it takes her to a short form that says:
See How Michelle Made $60K Making Printables (and Planners) on Etsy...
put your email in this block, and you can watch her interview with her star student,
Aimee, who made her first $1000 watching Michelle's videos.
Yes, Please!
And next, she is suddenly on Michelle's sales page, watching Michelle's videos and taken into Michelle's wonderful world of How To Make Printables, Digital Planners and Printables (and there are several OTHER awesome offers that she can pick from too!)
But, that's only the beginning...
Because Holly will start getting emails from Michelle and her affiliate (you) with a
"cookie" of an affiliate link that brings in
sales the MOMENT Holly suddenly says to herself...
"You know what? I've been thinking about getting Michelle's templates and making
digital planners to sell, ever since the night I saw that PIN
on Pinterest, and I need a side hustle, so what the heck?
And she smiles to herself, and pushes the BUY button....and suddenly YOU, the affiliate sees this on your phone!🎶
Paypal has just sent you $40.00 for Canva Templates (50% of a $97 - Paypal fees)
And it's well...magical...and wonderful, because you know with just 2 of those Paypal
notifications you can pay your water bill this month, right?
And that's exactly how it works for me on a daily basis.
And for a few people who really want to work hard and learn this exact
process, I am going to be doing something EXtra special.
In our Affiliate Pinning Success video course this week, I am going to be adding
the EXACT emails and PINS I am using to get those
Paypal has just sent you $40.00 for Canva Templates notifications
as CASE STUDIES.
And while as a credible marketer, I can't guarantee any income to anyone else,
I can GUARANTEE to show you what I am doing personally
as 💕Case Studies to watch, learn and do.
💕Case studies are my all-time favorite way to learn because there is NO THEORY.
It's like, here's what Kristie did step-by-step all the way to
"here's the Paypal notification."
And I LOVE those.
When I first started out, I used to buy courses JUST for the Case Studies, because
I wanted to SEE how the money was made from
Start to Finish.🎈
And that's exactly what you will see inside my
course called "Affiliate Pinning Success."❤️
Starting today, I am adding 3 Case Studies as a BONUS Module
to GIVE you on a platter
with the exact EMAILS I use to make daily affiliate commissions matched
to the AFFILIATE PROGRAM that is bringing me in sales, matched to older
and NEW Pinterest pins...already done-for-you!!!
Did you get that?
You won't have to wonder WHICH affiliate programs are bringing me in sales.
You won't have to make your OWN Pinterest pins.
You won't have to write your own affiliate emails.
That, right there, my friend is gold.
And the ones who recognize it will silently and quickly grab this insane offer.
I've NEVER given these away before, but I want to share EVERYTHING I've learned
with the special people who really want to LEARN this stuff.
Why don't most people succeed at affiliate marketing?
They get lost somewhere between an autoresponder-what??? what to promote and
HOW to promote it.
I realized yesterday that most people don't have the time, energy or passion to learn
copy-writing to write sales emails. I told one of my students, June, that I would
teach copy-writing, but I've decided to go a STEP better than that.
I'm going to GIVE you my own emails...already written, with adorable subject lines that make your subscribers want to CLICK, READ and potentially BUY through your affiliate link.
Heck, I remember how scared I was a few years ago to write an email and push
SEND. Learning WHAT to say in an email and how to say it without coming
across as a greasy car salesman, was and is not something I want to be known
for, and I'm guessing you don't either.
When I had built my first email list, and nervously sat down to write my first email,
I thought I would "break" something, or everyone on my list would disappear.
Fast forward 8 years later, and I will give you the EXACT emails that I've written,
tweaked and tested that bring in those daily affiliate sales.
I've decided to share those for the very first time with a select group of students.
Plus, I'll give you the SUBJECT lines and my secret tips that are worth their weight in
affiliate sales, so you'll be sure people will OPEN your amazing affiliate emails.❤️
Is this for me, you may be thinking?
This is for you if:
#1 - You've always wanted to learn affiliate marketing, but thought it was too complicated (hint: it's not if you just do 3 steps consistently).
#2 - You've always to do some Pinterest pins, but you wind up "chasing rabbits" when you get into the SEA of pins, and mentally start to redecorate your kitchen instead of finding a new way to pay the bills, LOL.
#3 - You really need a REAL online business model that can potentially feed you and your family for life (it has mine) #gratefultoGodforHisblessings
So, this course is going to be valued at $1997 in the future,
but while I am still building it out according
to my student's questions and needs, it is going to be a BETA price of only $297.
Plus, call me crazy but I'm also going to offer a $50 off coupon, so the price today will only be $247 that will expire when the clock hits 0.
Why? Because I really want you to learn a business model for the long-haul, not just a one-off affiliate sale. The key is in building a real business, not just a one-off sale.
Are you IN?
=>❤️Here's a really short webinar to tell you more (because I hate those long ones, who's got time for that LOL).
I know what you're thinking, I always KNEW there were special little tips that brought people affiliate success, but they were hidden behind lots of confusion and only bits of a huge puzzle. I'm going to push back the curtain and show you the simple steps with the proven affiliate programs to join, then GIVE you my own successful emails and pins to match. I want to fast-track a special few people who really want this, to affiliate success. If this is something you've been dreaming about doing, this is your day. This is your time. Why not you? Why not now?
You may be wondering, why would I share all of my most popular pins on Pinterest matched to my best affiliate sales? It's time I gave back to those who have followed me for years. I want this to be the last course on affiliate marketing that you will ever need. Period. There are 250 million (mostly ladies) on Pinterest shopping their hearts out every month. There is plenty of affiliate money to go around! Think in terms of abundance! You don't have to give another thought to competition. Remember, think BIG.
"The path to success is to take massive, determined action." Tony Robbins
=>❤️Here's a really short webinar to tell you more (because I hate those long ones, who's got time for that LOL).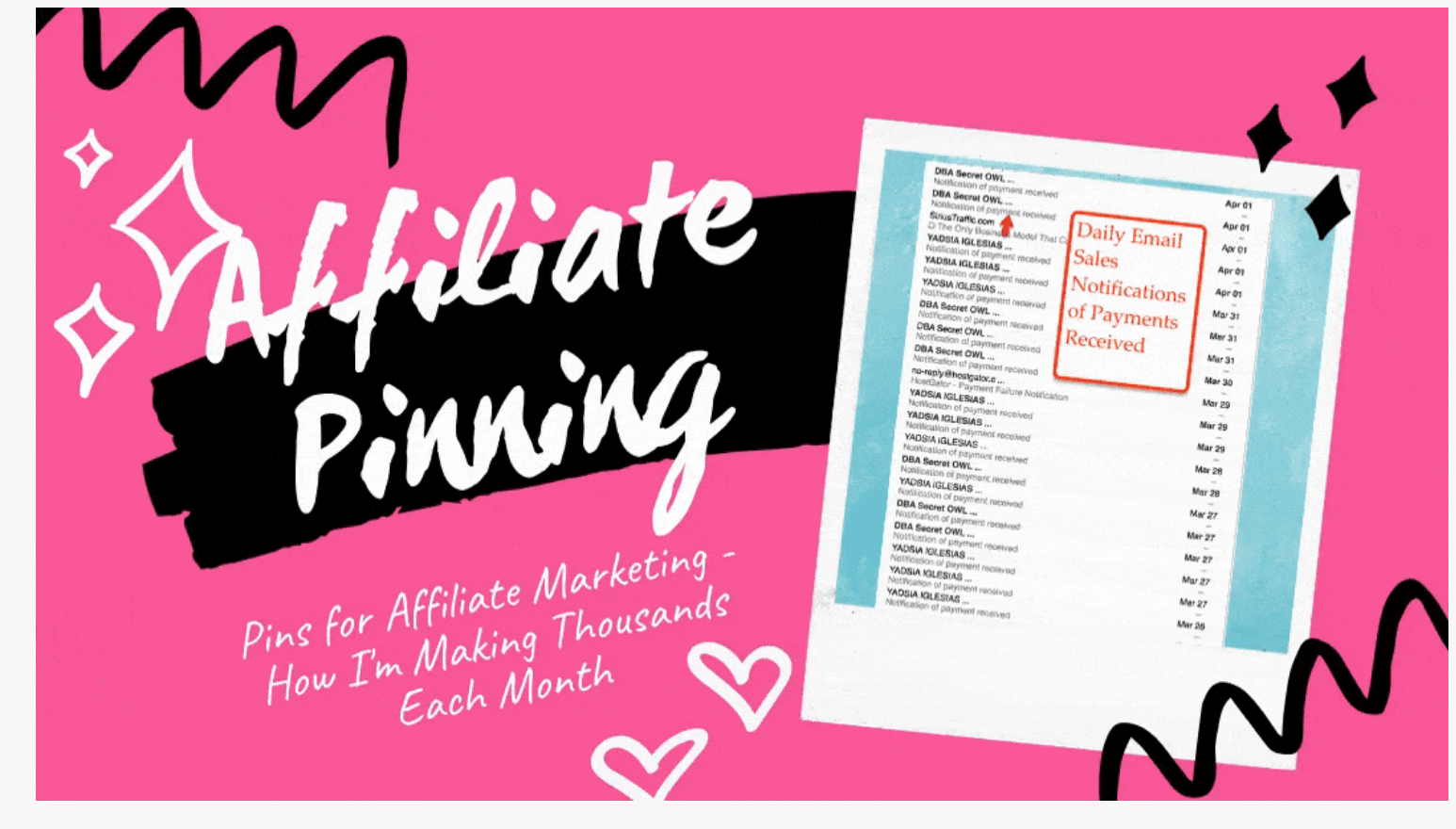 Complete and Continue