A few years ago when I was going through a really difficult divorce, I had lots of time on my hands late at night. I had a dream to work online from my laptop anywhere my future could take me...knowing that one day my teen-aged children would have lives and children of their own. Plus, after working in stuffy law offices and then teaching school for a short time, I knew two things: I loved to teach. I wanted to teach online. After one grueling day at a local elementary school where we were suddenly put on "lock-down" because a gunmen was not yet apprehended, my children begged me to "make this online stuff work."
That's when I began in earnest, although in reality I had been searching for months to find something "that worked" online. I had a few sales here and there, but I wanted MORE. I wanted a full-time income. Now, lots of events transpired between then and now, but it eventually led me to Print on Demand, Gearbubble and Etsy. My daughter-in-law had a huge impact on my life a couple of years ago. She is also a teacher and was expecting our third grandchild and desperately longed to stay home with the baby. Her Etsy shop had begun to pick up momentum, and I was amazed at her progress. Her sales would trickle in one here and one there, but when she began to see up to 10 sales a DAY, I sat up and took notice. Every time I was with her, her cell phone was doing that cash register sound each time she got a sale.
Cha-Ching! Cha-Ching!
And get this, it was all from ONE item that she customized...one item!
I began to study Etsy and soon discovered that Etsy, like Google and Youtube, is a search engine within itself. More importantly, I began to realize that Etsy was a potential gold mine because it is a BUYER's market. Cha! Ching!
Unlike Google where people go to search for general items, unless you are promoting a SPECIFIC product, Etsy is where mostly women (including me), go to BUY. And we do it weekly.
So, I began to apply the keyword techniques I had already learned ranking videos and websites on Google to my Etsy shop and I began to hear more Cha-Chings!
It has been a wild ride learning what sells and what doesn't. Unlike Britt's shop, my sales have come from a variety of items and a myriad of different niches. So, you may be thinking, how do I know what to sell on Etsy? The answer is: You have to research and test. You need some free tools for that that tell you WHAT is selling. You will see those in the course. These keyword tools tell you how many people a month are looking for that particular item. Then, you take those keywords and go into Etsy to check out your competition. Each time I do this, it's amazing. I discover MORE niches that I could handle in a lifetime and you will too!
I've put together a step-by-step video training course to show you how all of this works, and fits together.
Come and join us. The water is warm, and I promise you won't gulp too much "water" too fast.
How? I offer FREE Coaching for 90 days (or unless I get swamped it will be for at least 30 days), to hold your hand and guide you through. Just click the Enroll Me button and we'll get this party started - Kristie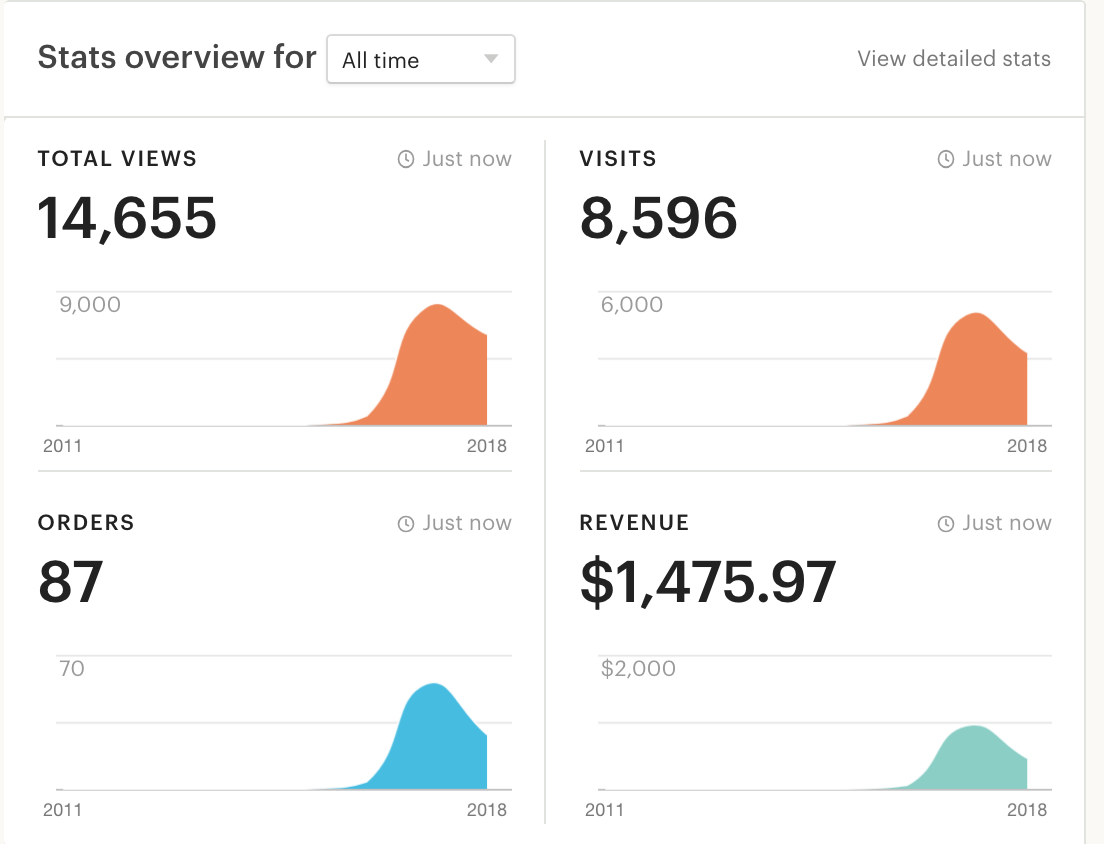 Every time I made daily sales, Etsy sends me an
email saying something like this: