When I first began online, I was a desperate Substitute Teaching looking for a way to make this "online stuff" work. I had been married for 25 years and when my divorce crumbled, my hopes at starting a new life working from my laptop was born. Plus, with two teen-aged children to attempt to establish some kind of stability, I knew I needed to stay home more than ever, especially on the weekends.
Thankfully, some alimony bought me time (but it was limited) to get my online act together, but I failed miserably the first two years and spend MORE than I made. Each time I bought a new course, or spend thousands on a weekend seminar, I promised myself that once I hit "gold" online, I could make up for it.
Unfortunately, I found myself consuming way MORE than I was earning, and two years later I found myself back at "square one."
One night after grading papers at my niece's softball game, and being utterly emotionally and physically "spent" to exhaustion, I went home and spread out every $7 ebook and hundreds of pages of other courses I had bought. Every one of them seemed like just one piece to a huge 1000 piece puzzle, and I knew the entire picture was there. Just like when I threw my future husband 'under the friend bus" to later re-unite with him on Eharmony 4 years later, I knew I had "missed" it somehow.
There was NO way all of these courses were scams, or didn't work since I had seen some results. All of these income shots couldn't possibly be faked. What was I missing?
I literally spread all of the pages out on my bedroom floor crying and praying for God to show me what I had missed so I could start living the "life of my dreams" instead the "life of my worst nightmare" being called from school to unknown dangerous school districts. Daily news reports of gun shootings made my now college--aged kids call me crying over the phone, "Mom, you just HAVE to make this online stuff work, you just have to!" What is it you're not doing?
Answer: I was suffering from what is known online as the "shiny object syndrome." I had jumped from business strategy to business stragety. The only one I had ever stuck to was when I "married" myself to a blog about "how to get a 6 packs abs" for one entire summer, working furiously away.
Result: 0 Sales. Ugh! Back to the drawing board or downloading another course I went.
Then, like with every new job you start, I began to "hear" a common thread amongst the hundreds of pages. It read something like this:
Build a Subscriber list.
Find a passionate niche where people think about that problem all day long.
Solve that problem.
What? Just three simple steps?
Could it really be that easy?
But I was still missing the HOW.
So in this blog post, I'm going to discuss some of the HOW, but if you want a detailed powerpoint presentation (grab your popcorn or your latte'), you'll want to download a Ebook on how I made Net profit $22,965.01 (after I paid affiliates). But the beautiful thing about this is, even if you split your net revenue with your affiliates, you have a wonderful asset..
the missing piece?
You need to be build a list of Subscribers who are BUYERS, not freebie seekers.
I've made a full-time living since 2013 by creating $7/$27 Ebooks and then turning around and mailing my subscriber list a "similar" product with my affiliate link.
Here is some of my Income from simple ebooks.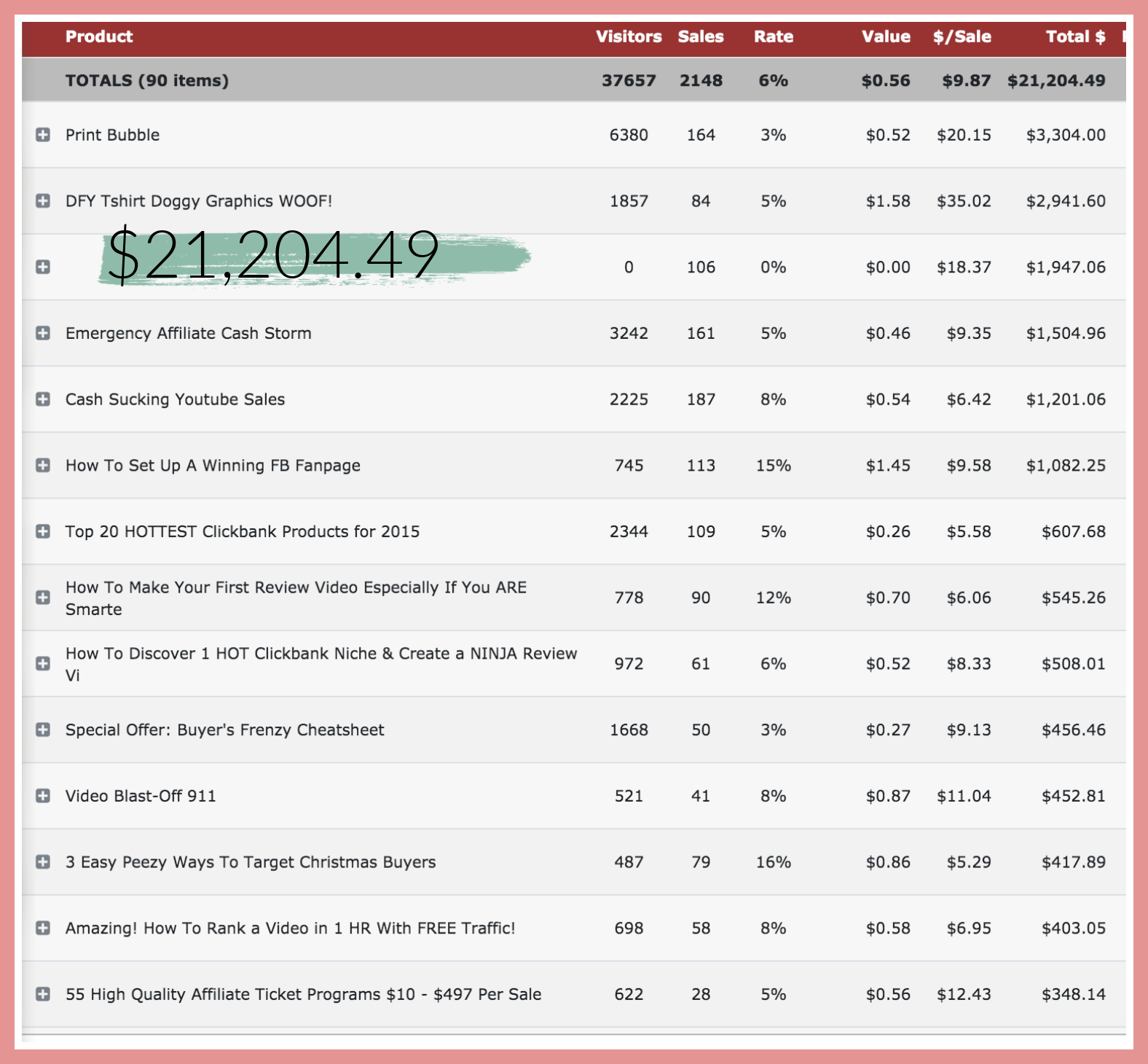 That, my friend, is the missing piece to the puzzle!
So, let's begin, shall we?
#1 - Pick a Niche that you know has products that are already selling. Avoid the newbie mistake of recreating the wheel, or try to sell something that only your Aunt Sue would buy.
#2 - Pick ONE problem in that niche. One burning problem that will get your visitors to click to your salespage like running for a hot mocha on a Fall day. And I know as creative people, this is SUPER hard for us (Squirrel! Squirrel! sale on at Belks..JK), but seriously Pick ONE.
Why? Expert marketers say that a confused mind says NO, and will click away from your valuable $7/$27 ebook. Plus, most people in the public have the attention span of a goldfish...so you only a few seconds to get them to click to your sales page, before they are bombarded with another sales message, especially on Pinterest. So, think ONE.
#3 - Solve that ONE problem with your ebook. Take your burning problem and solve it with a solution in the form of a quick and easy ebook. Ebooks are easy to download. They don't require any inventory. You don't have to stack physical books in your garage, spare room or the top of your closet and hope they sell. It is the best! Once I sold my first ebook, and heard Paypal's cash register Cha-Ching on my cell phone when I was working at the Atlanta Mart for extra money, I was HOOKED..and you will be too.
Now, if you would like a guide, I just wrote a brand new Ebook Called "How To Write An Ebook in 24 Hours" that you get here.
Now, after you write your ebook, give yourself some grace. I mean that. Go get a hot mocha, or cold latte, whatever is your favorite. When you do this all in one sitting, you might feel like I do...exhausted! Like you just birthed a small baby (I birthed two, so I can say that)! LOL. Now, you need to sell the thing. It is 10% creation and 90% sell that thang~!
If you need some help marketing (or selling that thang LOL), check out my other guide called "How I Made $22K Selling Simple Ebooks" found here.
Now, if you're not ready to create a full-blown video course, I hear ya! Plus, you would need to make sure it sells, before you spend weeks/months creating it. The better way is to start small with your own digital ebook that you can put out there to the world and see if there is a market for it.
One sale is a fluke.
100 Sales is a business!
So, you can write an ebook in 24 hours, PIN it on Pinterest or email it to your list, or put it on your Facebook page and see if it anyone loves it as much as you do.
Then, instead of creating MORE, you can put that same ebook on Amazon, write an article about on the highly visited site called Medium.com and market the heck out of it.
I love what one marketing said. He said we entrepreneurs will create a product and then if it is not a hit overnight, we will keep creating MORE (I raise my hand guilty as charged on creating too much). Instead, he said think of your ebook (the one that sells, now, not one that no one buys), is like a Broadway play. The Broadway plays that make a lot of money and have good reviews don't shut down after being played in one week. They replay that play over and over for WEEKS and sometimes months. Why? They don't need to REWRITE the play, they just need a new audience.
So, once you have a hot seller, find MORE of your audience. You can always tweak it, but don't start from scratch. There are actually people making thousands (and a few a million dollars) from a $37 ebook. You just have to have ENOUGH people searching for the SOLUTION to the PROBLEM that your ebook solves. - Kristie

I learned ALL of that "marketing magic" from this program. It's everything you always wanted to know about how to sell ANYthing online (including an ebook) found =>here.